Today was our last day in
Atlanta
. We began the day by attending service at
Ebenezer
Baptist
Church
; the same church that was led by MLK Sr and MLK Jr. I myself have never been to a Baptist ceremony so I was excited for the new experience. Consequently, we had arrived on their 126
th
founding anniversary. Included in their festivities was an appearance and speech from Christine King Farris, sister of MLK Jr and the longest serving member of the church. Members of our group would later get a chance to meet her in person while others of us were graced by a wave from her car.
J
The service was very thorough and focused on many of the challenges facing the world today. It also paid respect to this history of this,
America
's
Freedom
Church
and its history of being an advocate for civil rights and service in the community. After the ceremony, we had time to further explore the MLK Jr Center. My group went to see the original
Ebenezer
Church
, now called the Heritage Sanctuary; it was turned over to the National Parks Service in 1999.
Heritage Sanctuary was restored to its 1968 condition. It was inspiring to see the pulpit where Martin Luther King Jr himself spoke and preached from. As famous as the room was, it was sad to learn that his mother was assassinated in that very same room. It is without a doubt that the King family has had a long tradition of leading and inspiring the congregation of
Ebenezer
Baptist
Church
even to this day.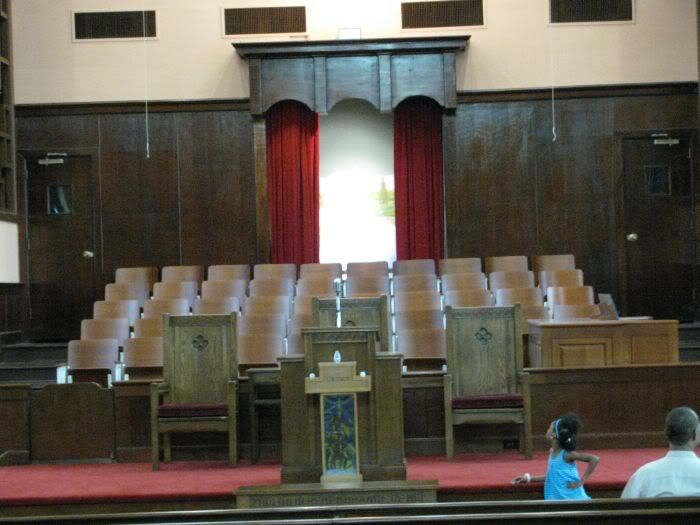 For late lunch, we drove into downtown
Atlanta
. My group decided to check out the
CNN
Center
and the Olympic Park. It is an amazing part of the city with just so many active people and so much to do. I must say…the screen inside CNN center is HUGE and has a very bright and crisp picture. After some shopping at the CNN store and taking a massive amounts of photos…we took off into the sunset for
Montgomery
.